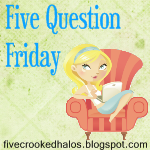 This is something that I just came across @
Simply Stacy
and I thought it looked fun :)
it is hosted by:
My Little Life
Here are this weeks questions!
1. What was the first car you owned?
umm a 92 Beretta :) my older sisters old car
2. What song are you embarrassed to know the lyrics to?
oh boy haha I don't even know... none! I am proud of all the songs I sing.
3. Have you ever had stitches?
Yes In my chin when I was about 7? I was in a wagon being pulled behind a bike and crashed into a mailbox... haha oops! And then when I had my baby boy!
4. What was your first job?
I would at Total Entertainment, it was a video and tanning place. It was awesome cuz I got free movies and cheap tanning!
5. Who is your favorite Sesame Street character?
Cookie Monster! I love cooookies :)